George Washington Frocks New Generation of Petty Officers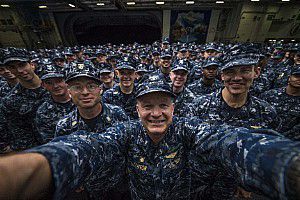 "PACIFIC OCEAN (NNS) -- A group of 275 Sailors stood in formation while Capt. Greg Fenton, commanding officer of the U.S. Navy's forward-deployed aircraft carrier USS George Washington (CVN 73), congratulates each of them on their advancement to the next paygrade during a frocking ceremony in the ship's hangar bay, May 30.
Frocking is a Navy tradition that dates back to the early 1800s that authorizes newly advanced Sailors to wear the rank and assume the responsibilities of the paygrade for which they have been selected. However, these Sailors will not receive the higher pay until their actual advancement date.
"It's a great feeling to see the hard work of our Sailors pay off," said George Washington's Command Master Chief Shaun Brahmsteadt. "I've been to 56 frocking ceremonies and it never gets old. There's nothing better than seeing a Sailor advance to a new paygrade.""
Good to see these young men and women getting promoted to petty officer in our naval fleet